Author: John Driscoll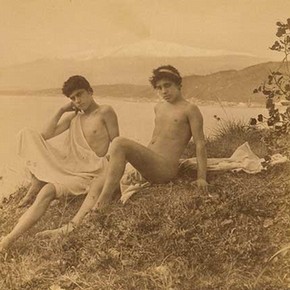 Wilhelm von Gloeden, 'Two Seated Sicilian Youths', about 1900
Description
Victorian England has long been considered one of the most repressive time periods in regards to sex.
When one pictures Victorian England, one would generally think of gentlemen and gentlewomen refusing to acknowledge sexuality as being a part of society.
This picture to a degree is true. There were laws put into place during this period that outlaws prostitution and homosexuality.
Clothing was designed to cover the entire body and it was considered scandalous for a woman to spend time alone with a man she was not married to.
Extreme restrictions were commonplace during the Victorian era.
At the same time, sex dominated Victorian thought.
Michel Foucault first introduced the idea, arguing that Victorian thought was obsessed with it and therefore repressed it.
England was forced to pass laws that outlawed prostitution due to its size.
Science became obsessed with sex, attempting to explain it and control it.
Towards the end of the period, Sigmund Freud would begin to unravel the tight knot around sexuality and reveal the complexities of Victorian era sexuality.
Scholarly Article
The Actress in Victorian Pornography:
Victorian Sexuality:
Links for Further Exploration
Primary Documents
·
Listed here is a link to a political cartoon entitled
The Great Social Evil
, printed in the magazine
Punch
in 1857.
The engraving illustrates how common prostitution had become; it had spilled into the political cartoons of newspapers.
Its location is now far from the haymarket, which shows how out in the open prostitution was during the period.
The title of the engraving also shows how big of an issue it had become in England, but the mother's response does not seem to imply an intense disappointment.
Edited and translated by Jeffrey Moussaieff Mason. The Complete Letters of Sigmund Freud to Wilhelm Fliess1887-1904. Oxford: Belknap Press, 1986.
·
This collection of letters is significant for our examination of sexology and sexuality in Victorian England.
Much of the letters contain Sigmund Freud's early ideas about sexuality and hysteria, themes that were congruent at the time.
These letters show its reader the changing landscape of sexuality towards the end of the 19
th
century.
It also reveals many of the notions about sexuality that were believed at the time.
Bibliography for Further Research
Foucault, Michel. Translated by Robert Hurley.
The History of Sexuality. Volume 1: An Introduction.
Haeberle, E.J.
The Birth of Sexology: A Brief History in Documents.
Washington D.C.:
Erwin J. World
Congress of Sexology, 1983
Marcus, Steven.

The Other Victorians: A Study of Sexuality and Pornography in Mid-Nineteenth Century

England.

New Brunswick: Transaction Publishers, 2009
Mason, Michael. The Making of Victorian Sexuality. Oxford: Oxford University Press, 1995
Marcus, Sharon.
Between Women: Friendship, Desire, and Marriage in Victorian England.
Princeton, NJ:
Princeton University Press, 2007
Smith, Allison.
The Victorian Nude: Sexuality, Morality, and Art.
(Manchester, UK: Manchester University
Press, 1996
Walkowitz, Judith R.
Prostitution and Victorian Society: Women, Class, and the State.
Cambridge, UK:
Cambridge University Press, 1982